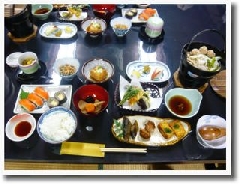 Dinner (dinner is from18:00)
◇Dinner and breakfast
■Dinner is from 18:00 ■Breakfast is from 7:30 
◇All japanese style room (without a private Bath and Toilet)
■With a wall partition/an outside key/an TV/a air condition.
This Property is 100% Non-Smoking.
◇Room amenity(Free)
■Towel, Toothbrush, Yukata(for adult only)
◇Check in 15:00 Check out 10:00
◇WiFi-FreeSpot(Free)
*Click to Enlarge.
Offer's Condition

| | |
| --- | --- |
| A consecutive stay condition | nothing |
| offers-limited | nothing |
Please click the date of the calendar after choosing a room type.

Use by the search condition specified even if the room of the gray out was vacant cannot be performed.
[x] You cannot make a reservation.
Require attention about the reservation
The reservation receptionist end
Until 23 o'clock at 1 days before the CheckIn date.
The receptionist of cancellation / the change
Please call us to +81-573-69-2048
The attention before the reservation
A cancellation rule
[Cancellation Policy]
Cancellation date (Cancellation fees)
No contact (on the day)......100%
Contact (on the day) ...... 50%
The day before(1 day before) 0%

Back
Top
---
Inn Tajimaya

☎ +81-573-69-2048